Magazine identifies one of Isaac's killers
---
[01] Magazine identifies one of Isaac's killers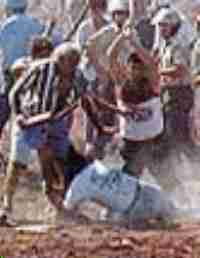 Nicosia, Sep 13 1996 (CNA) -- A Greek Cypriot magazine today identified the leader of Turkish extremists ''Grey Wolves'' branch in occupied Cyprus as one of the killers of Greek Cypriot protestor Tasos Isaac, 24, during the August 11 anti-occupation demonstration in the UN buffer zone, in Dherynia.
The Greek-language weekly magazine ''Selides'' (Pages) revealed through photographic evidence that one of Isaac's killers is Mehmet Aslan, President of the ''Grey Wolves'' branch in occupied Cyprus.
Turkish leaders and Turkish Cypriot leader Rauf Denktash have admitted that members of this Turkey-based extreme islamic organisation took part in the Dherynia incidents, during which Isaac was savagely beaten to death while more than 40 others were injured.
The magazine published ten successive colour pictures, showing every step of the victim's brutal beating to death by Turkish extremists, including so-called policemen (in uniforms) of the occupation regime.
Aslan is shown to be the first person chasing Isaac in the buffer zone and beating him on the head with an iron bar after he fell down. Acting in self defence, Isaac forced Aslan to kneel. Then Aslan stood up and started over again kicking and beating the unconscious youth.
A number of other Turkish civilians and so-called policemen of the occupation regime repeatedly hit Isaac on every part of his body using stones and iron and wooden bars.
''Selides'' quotes Turkey's ''Grey Wolves'' President Azmi Karamahmutoglu, who said in an interview published in the Turkish magazine ''Tempo'', on August 28, that members of his group were transferred to the occupied north.
Turkish Cypriot daily ''Kibris'' reported on August 12 that a meeting took place between the two branches outside the group's offices in the occupied northern part of the capital Nicosia.
Aslan was the one who led some 150 members of the extremist group to Dherynia, as the Turks did not know the surroundings, when he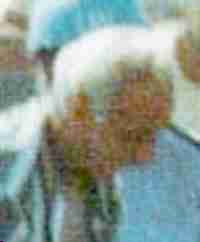 heard that Greek Cypriot bikers were heading there.
He was the first to cross into the UN-controlled buffer zone giving instructions to the rest to arm with iron and wooden bars, according to the magazine's sources.
This is the third person to be identified for the killings of Tasos Isaac and his cousin Solomos Solomou, 26, three days later, (August 14), at the same place, when he climbed a flagpole to bring the Turkish flag down.
The Cyprus government revealed Tuesday the identities of two of the killers of Solomou.
They are Kenan Akin, from Turkey, so-called minister of agriculture, forests and natural resources of the illegal regime, and Erdal Emanet, also from Turkey, commander of the regime's special forces.
Both killings were shown live on local television channels.